Say goodbye to bland and hello to flavors that pack a punch, without compromising your dietary choices. Whether you're dealing with food allergies or cooking for a crowd, these gluten free vegan snack recipes are sure to hit the spot!
From sweet delights to savory treats, we've got the recipes that will make your snacking game go from 'meh' to 'oh yeah!' So, let's break out the aprons, grab the ingredients, and whip up some plant-based magic that will have everyone begging for your gluten-free vegan snack secrets!
Keep reading or use the table of contents below to jump to the section of your choice!
The gluten-free guide below is based on personal experience and research. Always be sure to discuss any medical changes with your doctor for your personal medical needs. Additionally, this post contains affiliate links. As an Amazon Associate I earn from qualifying purchases. My full disclosure isn't that interesting, but you can find it here.
Sweet Gluten Free Vegan Snack Recipes
You don't have to sacrifice taste for health with this collection of sweet gluten-free vegan snacks! Going vegan and gluten-free doesn't have to mean saying goodbye to treats. Packed with natural ingredients, you don't need to be an experienced cook to whip up these mouthwatering snacks.
Savory Gluten Free Vegan Snack Recipes
Here you'll discover a bevy of savory vegan treats that are perfect for snacking, with flavors and texture that will have you coming back for more. Aside from being vegan and gluten-free, each recipe is created with simple ingredients you can find in any grocery store.
Looking for some store-bought gluten free Doritos? Check out these GF Doritos dupes.
Healthy Gluten Free Vegan Snack Recipes
Here's a list of our favorite healthy gluten-free vegan snack recipes that are sure to satisfy your cravings without sacrificing taste. You'll find something that fits easily into your lifestyle. So enjoy a snack without the guilt – it's time to get creative with healthy gluten-free vegan snacks.
Which Gluten Free Vegan Snacks Will You Try First?
Go forth and snack fearlessly, knowing that you're nourishing your body with wholesome ingredients and savor every mouthwatering bite of these plant-based snacks. They are all the best gluten free snack ideas that are also perfect for a vegan diet.
Did you love this tasty list?
If so, be sure to pin it to Pinterest or flip it to Flipboard to save it for later, or share it on social media using the social sharing buttons below!
Looking for more delicious gluten-free vegan recipes to try?
Here are some more healthy gluten free and vegan recipes you'll love: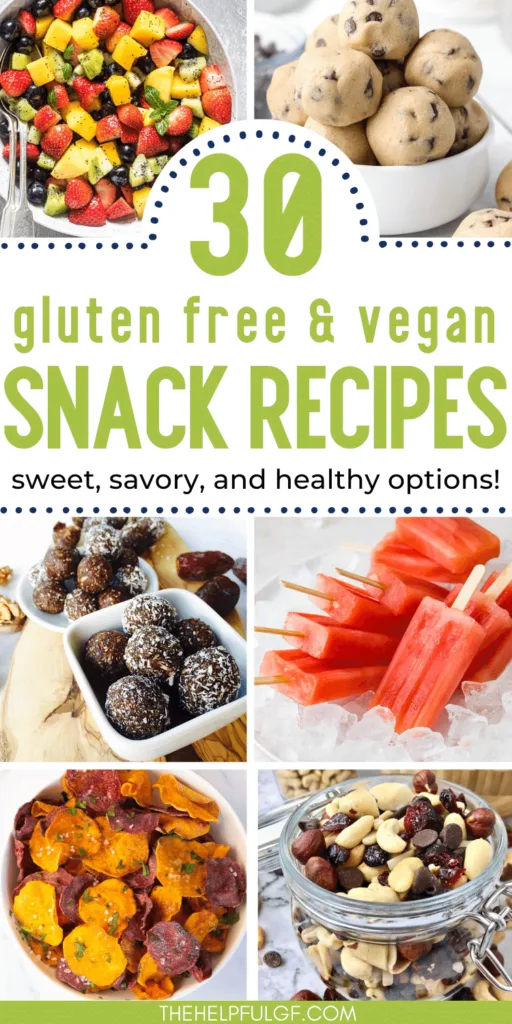 Thanks for checking out these delicious recipes!