Bagels are delicious! They are chewy, crusty, and there are so many tasty flavors to choose from.
Being gluten free doesn't mean you can't still enjoy a bagel. It means that you need to choose the best gluten free bagel brand so you can enjoy the great taste of a bagel, without compromising your health.
This article will cover everything you need to know about the best gluten free bagel brands.
Use the Table of Contents below to jump to a specific part of the post of keep reading for store-bought bagels & bakery recommendations!
---
Are you new here? I also have the following posts to help you live gluten-free without the stress!
…get valuable support from me, and gluten-free peers, in my EXCLUSIVE Facebook community "Stress-Free Gluten-Free" by clicking here!
---
The gluten-free guide below is based on personal experience and research. Always be sure to discuss any medical changes with your doctor for your personal medical needs. Additionally, this post contains affiliate links. As an Amazon Associate I earn from qualifying purchases. My full disclosure isn't that interesting, but you can find it here.
Ready to take back control of your meals and love your gluten free life? Take the 45 second quiz to get a personalized plan with the guide you need to thrive!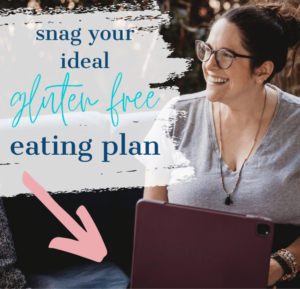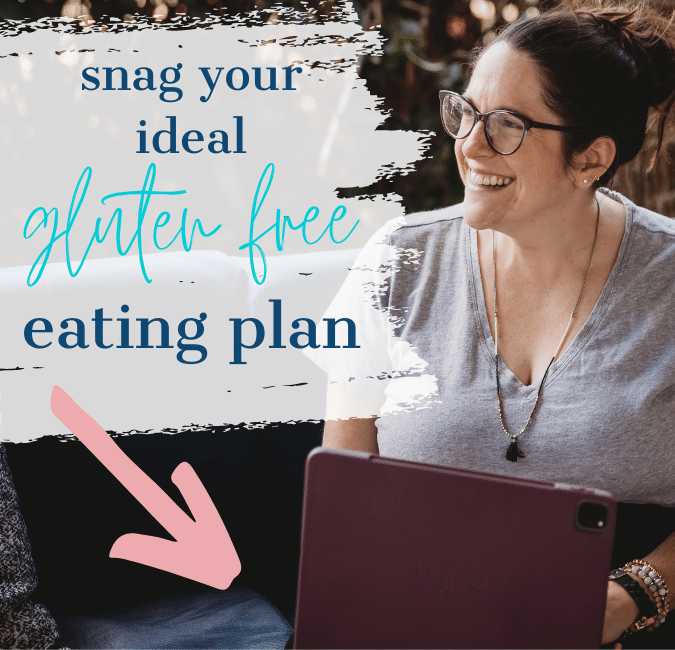 Are Bagels Gluten-Free?
If you're wondering: do bagels have gluten, then you may be disappointed. Sadly. traditional bagels are not gluten free.
Gluten is most commonly found in wheat, and since bagels are usually made with all-purpose flour (which is made from wheat) they contain gluten. Traditional bagels are not safe to consume on a gluten free diet.
Luckily, there are many bagels that are made with a blend of flours from gluten-free grains and starches, making them safe to eat if you follow a gluten free diet.
Keep reading for the best gluten free bagel brands I recommend below.
What Bagels are Gluten-Free?
Bagels that are gluten free are specially formulated to not contain gluten. Now you're probably wondering, what are gluten free bagels made of?
Gluten free bagels are made of a combination of flours made from gluten free grains. Some grains that may make up the flour in a gluten free bagel include potato or tapioca starch, buckwheat flour, brown rice flour, or sorghum flour.
In order for a bagel to be gluten free it must be made of flour that does not contain wheat, rye or barley.
Can Celiacs Eat Bagels?
Yes, celiacs can eat bagels IF they are gluten free.
If you are new to shopping for gluten free items, you will definitely want to read this post on Gluten Free Labeling and Certification before you head to the grocery store.
It breaks down exactly what to look for so you can be confident that you are choosing truly gluten free products that are safe to eat.
When it comes to eating gluten free bagels at a restaurant you need to be even more careful. It is very important to ensure the restaurant is able to properly accommodate food allergies/intolerances rather than just preferences.
Cross contact is something else you need to be diligent about when eating out. Before you go out to eat at any restaurant, familiarize yourself with these 4 Steps to Prevent Gluten Cross Contact.
Think about cross contact like this – let's imagine your favorite coffee shop only has one toaster. Now think of all those crumbs from traditional bagels coming into contact with your gluten free bagels.
It's pretty easy to see how cross contact spells bad news for someone with celiac disease.
It doesn't mean you can't still enjoy grabbing a gluten free bagel when you're out, but it does mean you have to be careful and selective when you do so.
These 5 Tips for Eating Out Gluten Free at Restaurants will help to ensure you can enjoy your gluten free bagel without worry when eating out.
Where to Buy Gluten-Free Bagels
If you're wondering are there gluten free bagels, then you're definitely in luck! But where do you buy gluten free bagels?
You can often find gluten free bagels at your local grocery store. If they are not on the shelves in the bakery section, check the frozen section as well.
Gluten free bagels can also be found at a variety of online retailers. Check out GoPuff, Whole Foods and Amazon.
Thrive Market is another great online retailer for buying gluten free bagels. If you want to know more about how Thrive Market can save you money on a gluten-free diet check out my full review here, or click here to try Thrive Market and get a free gift up to $24.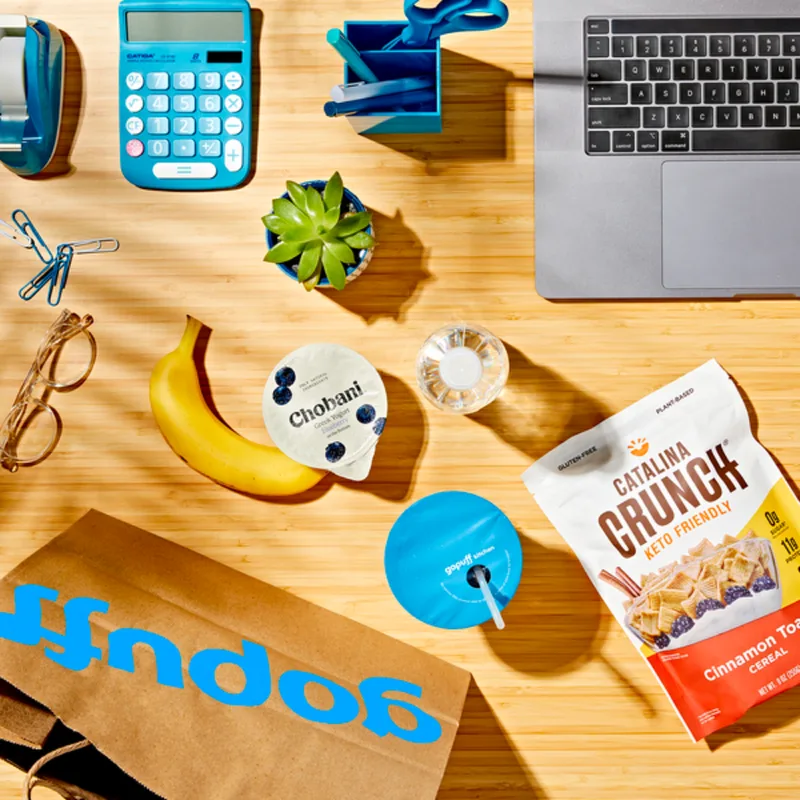 Sick of making grocery runs? Me too!
Try GoPuff for quick and easy grocery delivery including your favorite gluten-free essentials!
Get $15 Off First 3 Orders!
Use Code: PROMO45
Best Gluten Free Bagel Brands to Buy
Here are my favorite gluten free options for the best store bought bagels!
Against the Grain: Gluten Free Bagels, Cinnamon Raisin
These bagels from Thrive Market are gluten free and dairy free and are available in a variety of flavors.
The best part? They are frozen and can be bought in a 4-pack so you can easily stock up and save some money while you're at it!
365 by Whole Foods Market: Bagels Plain Gluten-Free
These plain bagels are certified gluten free and Non-GMO so you can feel completely confident choosing this brand of gluten free bagel.
They are available from Whole Foods on Amazon for quick and easy ordering.
Canyon Bakehouse: Variety Bundle
Don't you love when you have choices? This Canyon Bakehouse gluten free bagel bundle gives you just that!
Included in the bundle is plain bagels and everything bagels. This brand is dairy free, nut free and soy free making it extremely versatile.
You can find this brand at Thrive Market here or add to your pick up order at your local Target here.
O'Dough Thins Gluten Free Bagels: Vegan Bagels
If you love bagels but keep track of your calories, these gluten free bagels have your back. With only 100 calories and no added sugar, you can enjoy that great bagel taste and keep your health on track.
The O'Dough bagels are certified gluten free, certified vegan, kosher and Non-GMO.
Shop for these bagels on Amazon here.
New Grains Gluten-Free Blueberry Bagels
A gluten free blueberry bagel on-the-go is breakfast perfection and these delicious bagels are even made with real blueberries!
Not only are these bagels made in a 100% certified gluten free facility, they are also dairy free, nut free and soy free. This may be your pick for best healthy bagels!
Bagels from Gluten-free Bakeries that Ship
Want to level up your gluten-free bagel game even more? Check out these US gluten-free bagel bakeries that will ship nationwide!
Modern Bread and Bagel
When it comes to good gluten free bagels, Modern Bread and Bagel in New York has the market cornered.
These gluten free bagels are also nut free, dairy free and soy free. Plus they have a whole host of other gluten free options that you might just end up adding to your order!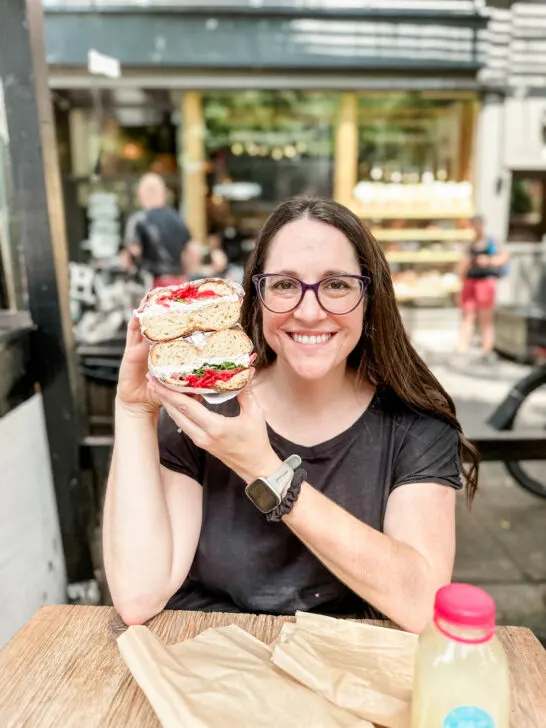 Here's a picture of Sharon eating a delicious gluten free bagel from Modern Bread + Bagel for proof of deliciousness!
Odd Bagel
Odd Bagel was built with the goal of creating a bagel that is accessible to almost anyone and still tastes great.
All of their varieties are certified gluten free, vegan, kosher and Non-GMO and they ship to all 50 states!
How Do You Heat Up Gluten-Free Bagels?
Just like traditional bagels, gluten free bagels always taste better toasted!
Remember that the easiest way to avoid cross contact is to have a dedicated gluten free toaster. Opting for a unique looking or different color toaster like the one below is a great way to ensure nobody gets confused about which toaster to use.
If separate toasters isn't an option, opt for a toaster oven and use small baking sheets to create a barrier for toasting your food.
And don't forget to top your bagel with some delicious butter, peanut butter, or classic cream cheese!
Frequently Asked Questions about Gluten-Free Bagels
Are Everything Bagels Gluten-Free?
Yes, as long as they are made with gluten free ingredients. Remember to check the package for a gluten free label or certification to be sure.
Does Trader Joe's Have GF Bagels?
Yes! Trader Joe's does sell gluten free bagels.
Do New York Bagels Have Gluten?
Traditional New York bagels do contain gluten. Gluten Free New York bagels are gluten free and safe to consume. Be sure to check the label to ensure you are choosing a gluten free brand.
Can You Buy Gluten-Free Bagels at Walmart?
Yes! Walmart does sell a variety of gluten free bagels including some of the best gluten free bagel brands on this list. Check out their website to see what they offer.
Can You Buy Gluten-Free Bagels at Aldi?
Good news! You can buy your gluten free bagels at Aldi.
Did you love this post on The Best Gluten Free Bagel Brands?
If so, use the social sharing buttons below to share it on social media or pin it to Pinterest for easy reference later!
Other posts on gluten free living that you'll love: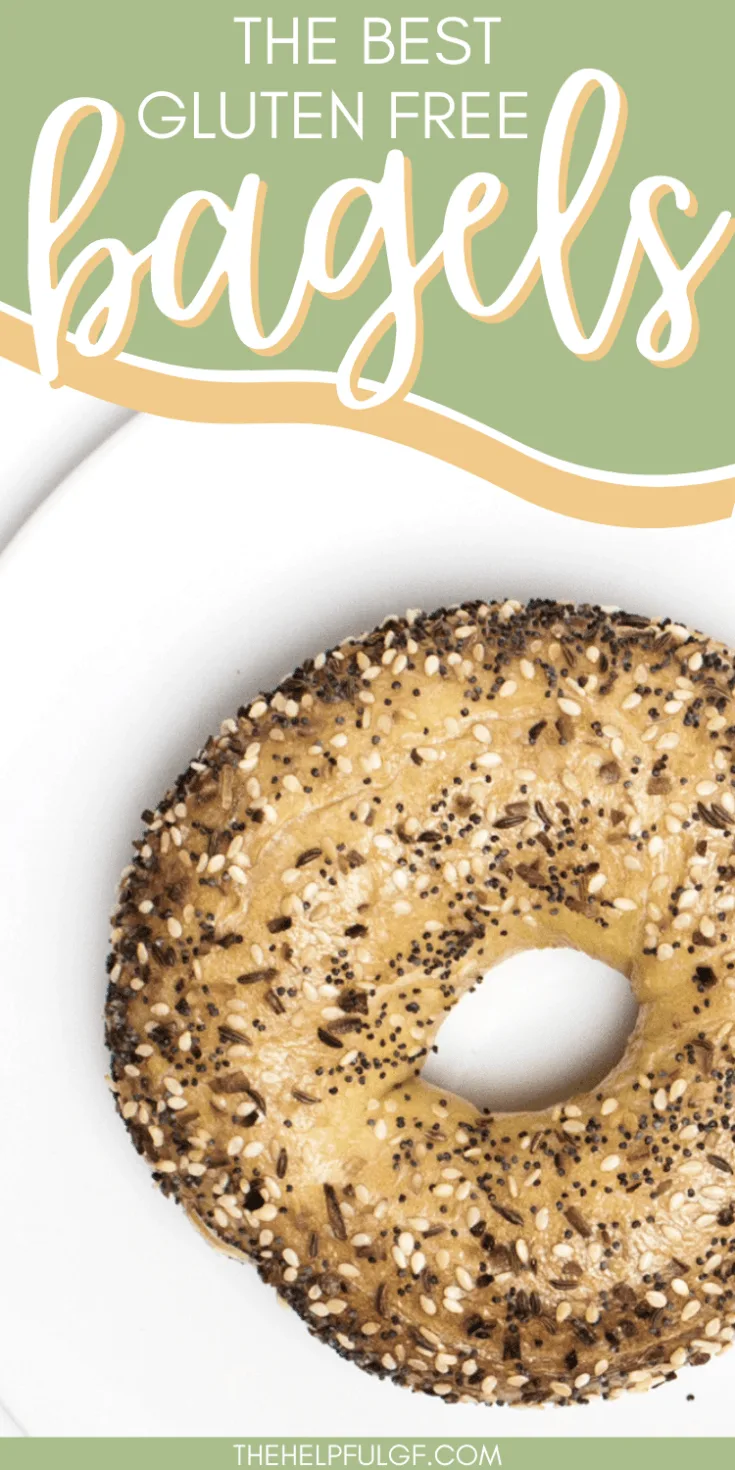 Thanks for reading this guide on are bagels gluten free + the best gf bagels!