Are you looking for a delicious gluten free appetizer for your next get together? Then you need this classic gluten free spinach artichoke dip recipe!
This recipe is the perfect balance of creamy and rich and can be made with fresh spinach or frozen spinach. Either way, this baked spinach artichoke dip is sure to be a crowd pleaser.
Keep reading for the full step-by-step recipe with pictures, ingredient tips and substitutions, and troubleshooting tips. Or use the jump to recipe button to go straight to the printable recipe card.
---
Are you new here? I also have the following posts to help you live gluten-free without the stress!
…get valuable support from me, and gluten-free peers, in my EXCLUSIVE Facebook community "Stress-Free Gluten-Free" by clicking here!
---
The gluten-free guide below is based on personal experience and research. Always be sure to discuss any medical changes with your doctor for your personal medical needs. Additionally, this post contains affiliate links. As an Amazon Associate I earn from qualifying purchases. My full disclosure isn't that interesting, but you can find it here.
Ready to take back control of your meals and love your gluten free life? Take the 45 second quiz to get a personalized plan with the guide you need to thrive!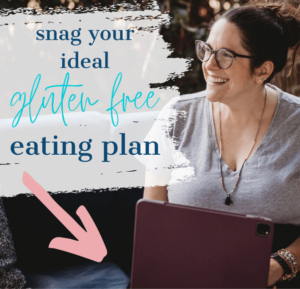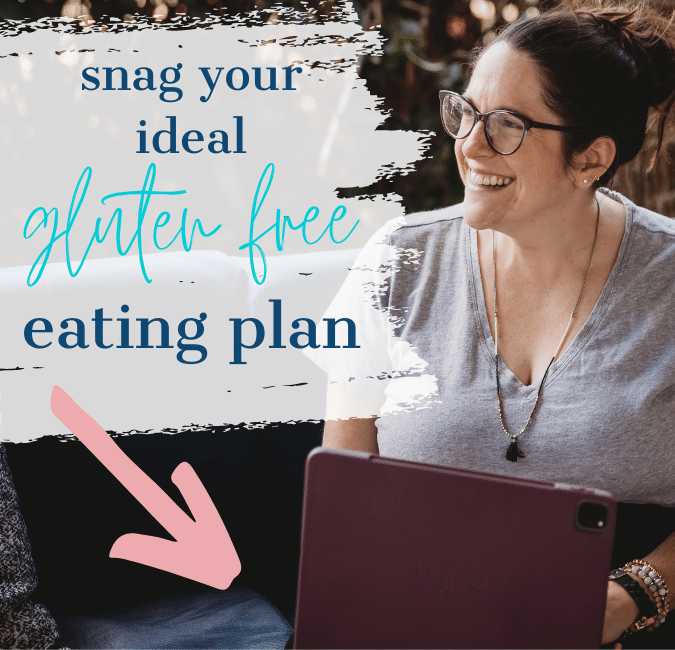 Why you'll love this gluten free hot spinach artichoke dip:
This is a classic dip that people love, but made 100% gluten free.
This hot dip contains quite a few veggies for potassium, fiber, and vitamin C, and the dairy adds calcium and vitamin A. Plus, it is also naturally low carb and sugar free. While I eat it with chips, you could definitely use fresh cut veggies if you're on a keto diet or using as an S recipe on the Trim Healthy Mama plan.
It's perfect to serve a crowd for a dinner party or to bring to potluck or other event.
Is Spinach Artichoke Dip Gluten Free?
If you're wondering does spinach artichoke dip have gluten, the answer is maybe.
While this healthy spinach artichoke dip recipe is totally gluten free, this doesn't mean that all spinach artichoke dip recipes are. Additionally, spinach artichoke dip is often baked in a bread bowl which would make it not appropriate for someone with celiac disease or an allergy to consume as there is significant cross contact.
If you're purchasing store-bought spinach artichoke dip, be sure to read the label or look for a gluten free claim.
If you're looking to make your own spinach artichoke dip gluten free, then you're in the right place!
Ingredients for Homemade Spinach Artichoke Dip
It only takes a few ingredients to make this creamy spinach artichoke dip–some which you likely already have on hand!
You should be able to find many of these ingredients at your local grocery store (you can use the instacart button in the recipe card to add them to your grocery delivery easily), but you can also find great deals on some of the ingredients like canned artichoke hearts online through Thrive Market.
Learn more about why I love Thrive Market here, or you can snag a promotional link to receive up to 25% off your first order plus a free gift by clicking here!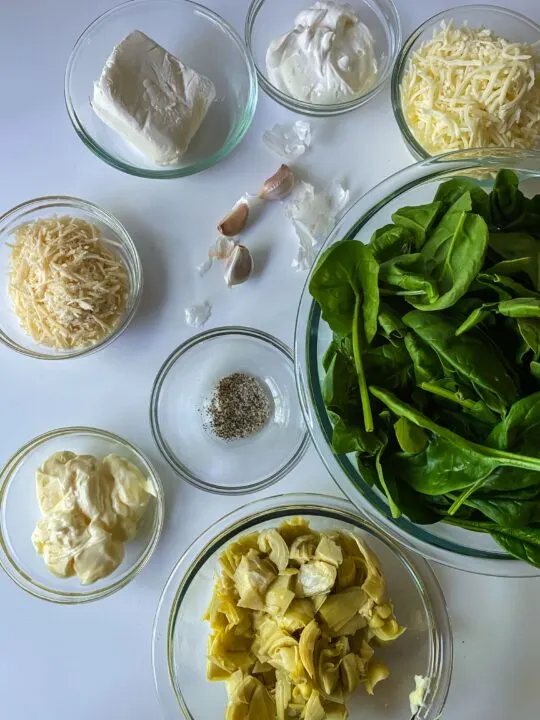 To make this homemade spinach artichoke dip with fresh spinach, you'll need some simple ingredients:
Olive oil
Fresh spinach. Want to use frozen spinach instead? Go ahead–but see the notes in the section below.
Canned artichoke hearts. These will need to be drained and chopped.
Mozzarella cheese. This can be fresh grated or pre shredded.
Cream cheese
Sour cream
Mayonnaise. Looking for the best gluten free mayo brands? Check them out here.
Grated or minced garlic cloves. You can substitute garlic powder, but it won't have quite as complex of a flavor profile
Grated parmesan cheese
Kosher salt and black pepper. Fresh cracked black pepper would be really delicious in this recipe.
Can you use frozen spinach?
Yes, you can definitely make baked spinach artichoke dip with frozen spinach! To do this, be sure to completely thaw your frozen spinach, and drain all the water out.
To do this, place your spinach in a cheesecloth or tea towel and squeeze all the water out.
Can you use Greek Yogurt in this recipe?
You can sub plain Greek Yogurt for sour cream in this recipe. The texture will be the same, but the flavor will have a bit more zing.
These are my favorite gluten free yogurt brands.
How do you Make Baked Gluten Free Spinach Artichoke Dip?
To make this dip, first you will prepare your spinach and artichoke hearts. If your spinach is frozen, thaw it and squeeze out all the water. Drain and chop your artichoke hearts.
Meanwhile, preheat your oven to broil (or highest setting) and spray an oven-safe baking dish with non-stick cooking spray.
In a frying pan, saute your garlic in olive oil over medium heat for 30 seconds.
Add fresh spinach by the handful, letting each handful welt before adding more. If using frozen spinach, add to the pan and saute until heated through.
Stir frequently until most of the liquid has evaporated. This should take around 3-4 mins.
Add in the chopped artichoke hearts, sprinkle with salt and pepper.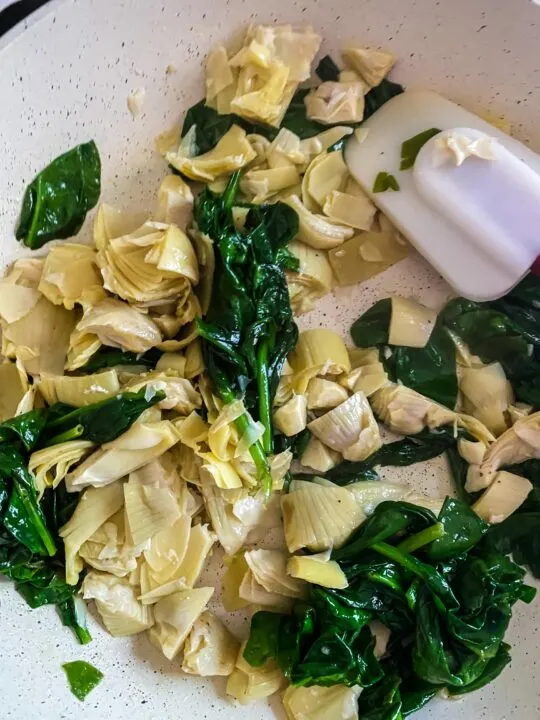 Reduce the heat to low and add cream cheese, sour cream, mozzarella cheese and mayonnaise to the spinach mixture, stirring to incorporate.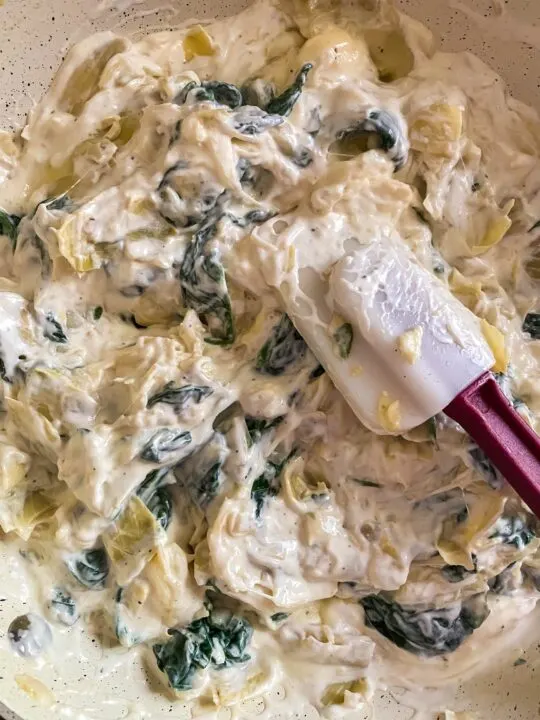 At this point, season with additional salt and pepper to taste.
Pour into the prepared baking dish and top with grated Parmesan cheese.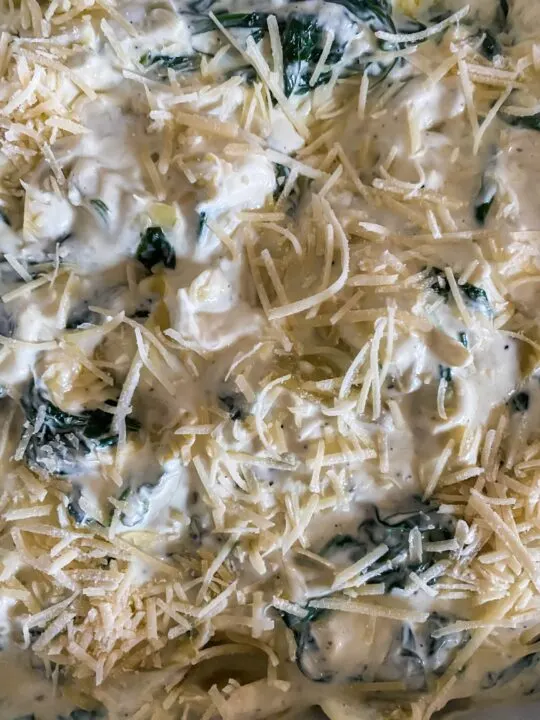 Place in an oven and broil until the top is golden and bubbling. Watch this closely, it took me around 5-7 minutes, but this will vary depending on oven temperature.
If you don't have a broil setting, you can simply use a hot oven instead. Bake at 450 for 12-13 mins until your spinach dip is golden brown and bubbly.
Let the hot artichoke spinach dip rest for a few minutes before serving.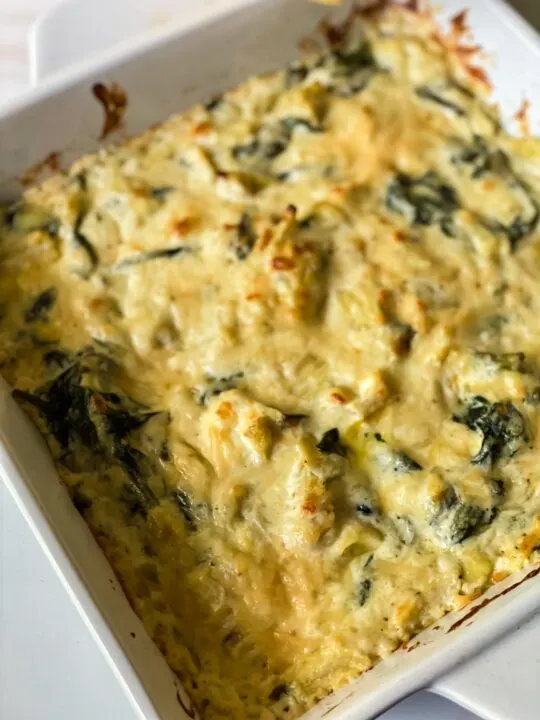 Note: If increasing the amount of this recipe remember to always use equal parts cheese, Mayo and sour cream so the flavor profile stays balanced in this delicious spinach artichoke dip.
What to dip in gluten free spinach artichoke dip:
There are so many things that can be dipped into this delicious dip made with fresh spinach–or any other hot dip such as buffalo chicken dip for that matter!
My first pick would be to either use toasted gluten free bread or homemade toasted gluten free bagel chips. If you're hoping to keep this a keto spinach artichoke dip, use celery sticks or bell pepper strips.
Other dippers include:
How long does spinach artichoke dip last?
When it comes to storing the leftovers, this gluten free dip should be kept in an airtight container or tightly covered with plastic wrap in the fridge for 5 days or less.
Can you make keto spinach artichoke dip ahead of time?
Yes you can! I would prep everything ahead of time EXCEPT for the baking. Keep it in the fridge in a covered container and then transfer to your baking pan when ready to bake it!
Other ways to use this gluten free dip:
You could also use this dip as a delicious spread on a gluten free wrap, mix it with pasta, or bake it on top of chicken breasts.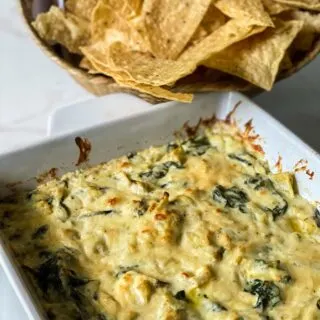 Gluten Free Oven Baked Spinach Artichoke Dip
This baked spinach artichoke dip is creamy, made with fresh or frozen spinach, and totally gluten free. It's also low carb and paired with fresh cut veggies makes a great keto dish!
Equipment
1 large skillet

1 8×8 baking dish
Ingredients
2

tbsp

olive oil

12

oz

spinach

fresh or frozen, drained

14

oz

canned artichoke hearts

drained & chopped

1 1/2

cup

shredded mozarella

or sliced fresh

4

oz

cream cheese

1/2

cup

sour cream

1/2

cup

mayonnaise

1

clove

garlic

minced

1/4

cup

Parmesan

grated

salt & pepper

to taste
Instructions
Preheat your oven to broil (or the highest setting if you don't have a broil)

Spray your baking dish with nonstick cooking spray.

Using a frying pan, sauté the garlic in olive oil on medium high heat for 30 seconds.

Add spinach by the handful letting each handful wilt before adding more spinach. Stir frequently until most of the liquid had evaporated (this should take about 3 minutes)

Add in the chopped artichoke hearts.

Reduce the heat to low and add in the cream cheese, sour cream, mozzarella cheese, and mayonnaise. Season with salt and pepper to taste.

Pour into the baking dish and top with grated parmesan cheese.

Place into the oven and broil until the top is golden brown and bubbling this should only take about 5 minutes. Watch closely to ensure it does not burn!

Carefully remove from oven and let rest 3-4 minutes before serving.
Notes
If you do not have a broiler setting, bake at 450 F for about 12-13 minutes until bubbly and golden brown.
note: nutrition information is provided as a courtesy, but may not accurately reflect the final nutrition composition of your final dish depending on ingredients, substitutions, and serving size.
see the full blog post above post for:
ingredient and equipment suggestions & substitutions,
troubleshooting tips, and
frequently asked questions
Did you love this Delicious Spinach Artichoke Dip?
If so, be sure to share it on social media or pin it to Pinterest using the social sharing buttons below.
Other Gluten Free Appetizers You Will Love: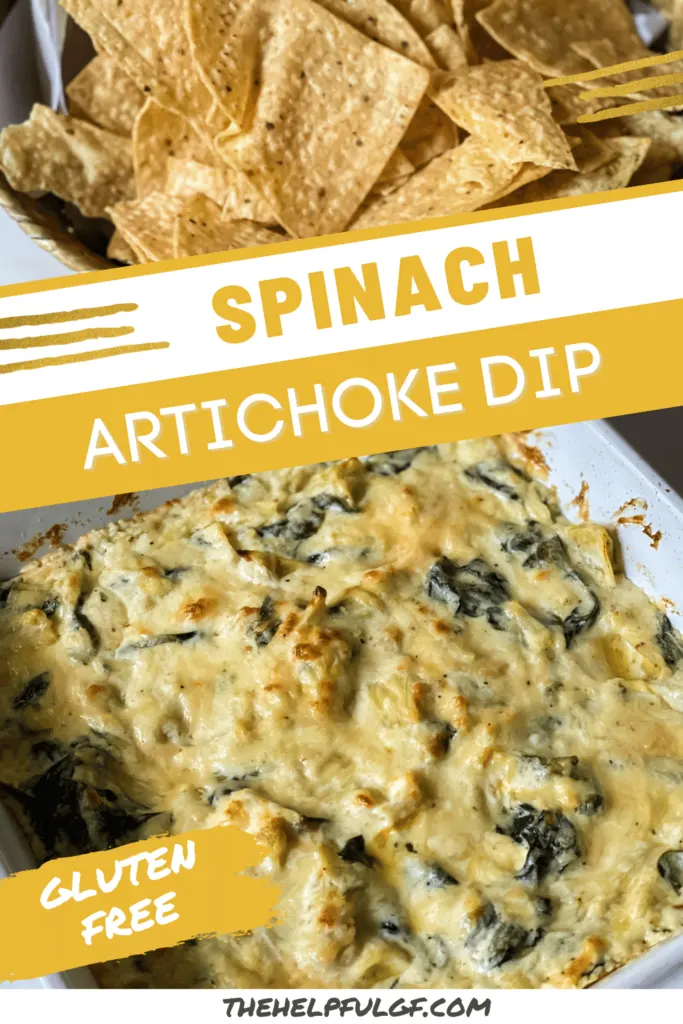 Thanks for trying this gluten free spinach and artichoke dip!