110 GRILL MENU: A GLUTEN-FREE 110 GRILL REVIEW
It isn't often that you enter a restaurant and there are as many choices on the gluten-free menu as the regular dining menu—but the 110 Grill menu IS THAT MENU! **cue the cheers!**
I've seen other gluten-free bloggers posting Instagram pics of their food and I knew that when one opened in Albany I HAD to try it!
And let me tell you—not only did 110 Grill not disappoint, but it honestly exceeded my expectations.
Keep reading to learn more about the 110 Grill Menu and see pics of what we personally ate.
---
Are you new here? I also have the following posts to help you implement the gluten-free diet while traveling without the stress!
…and of course, you should join my EXCLUSIVE Facebook community "Stress-Free Gluten-Free" by clicking here!
---
The gluten-free review below on the 110 Grill Menu is based on our personal experience at 110 Grill Albany, NY. Always be sure to discuss gluten-free options with your server and ensure that they are able to accommodate your personal dietary needs. My full disclosure isn't that interesting, but you can find it here.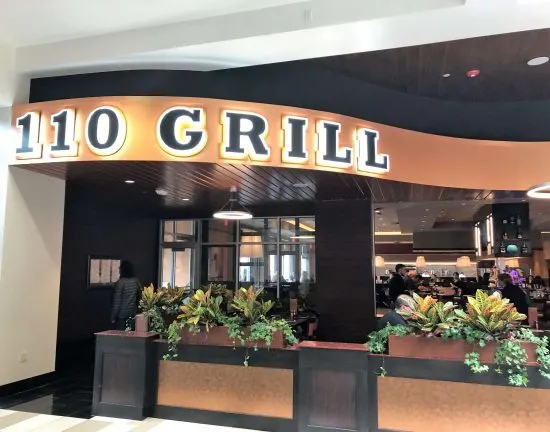 Where are 110 Grill Restaurants Located?
110 Grill restaurants have locations across the Northeastern US. Originally located in New England, they also have locations in Upstate New York spanning from the Capital Region across the Finger Lakes, New York into Rochester and Syracuse.
Gluten and Allergen Care
In my experience, 110 Grill sets the standard of allergen protocol in a shared kitchen. The 110 Grill allergy menu is very clearly labeled and allergens are noted. When seated, the first thing the wait staff asked was: "Does anyone in your party have any allergies to note?"
The allergens were recorded and it was explained that all allergen-friendly food would be carried out by senior staff so it would not be mixed up.
Managers at 100 Grill receive Food Safety and Allergen Awareness certifications and staff receive extensive allergen training.
Another cool aspect of 110 Grill's allergen commitment (which also makes their food WAY better than competitors) is that the kitchen is a from scratch kitchen, so it makes it simple for them to prepare food in a way that's tailored to your individual needs.
PLUS—when delivered to the table, the allergen-friendly food is also marked with a little allergen marker. Keep on reading to see what we ate!
The 110 Grill Menu
As mentioned, the 110 Grill menu for gluten-free dining is extensive. According to the company, 100% of their regular menu can be adapted to be gluten-free!
At the time we dined, there were 10 appetizers, choices of flatbreads, salads, and soups, plus more than 25 entrees. Plus, there are a number of vegetarian and vegan options as well!
When you're not used to this many choices—indecision is REAL!
Here's what we ate for appetizers:
chorizo totchos (nachos made with tater tots as a base)
crispy fried pickle chips (with the most amazing honey mustard and sriracha aioli dipping sauces)
firecracker shrimp with sweet chili sauce for dipping.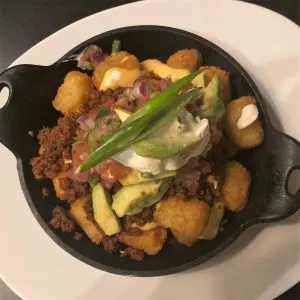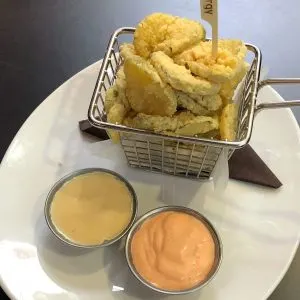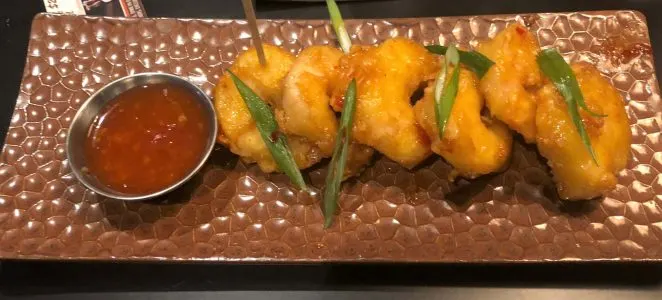 The fried pickles and firecracker shrimp were both gluten and dairy free. We devoured the appetizers. They were so amazing!
The main courses:
steak & cheese sandwich on a gluten-free bun with regular French fries
Cuban sandwich with regular French fries (this was gluten and dairy free—plus, note the fried pickles ON the sandwich! genius.)
grilled cheese with creamy tomato soup (the grilled cheese had both American and goat cheese plus garlic aioli).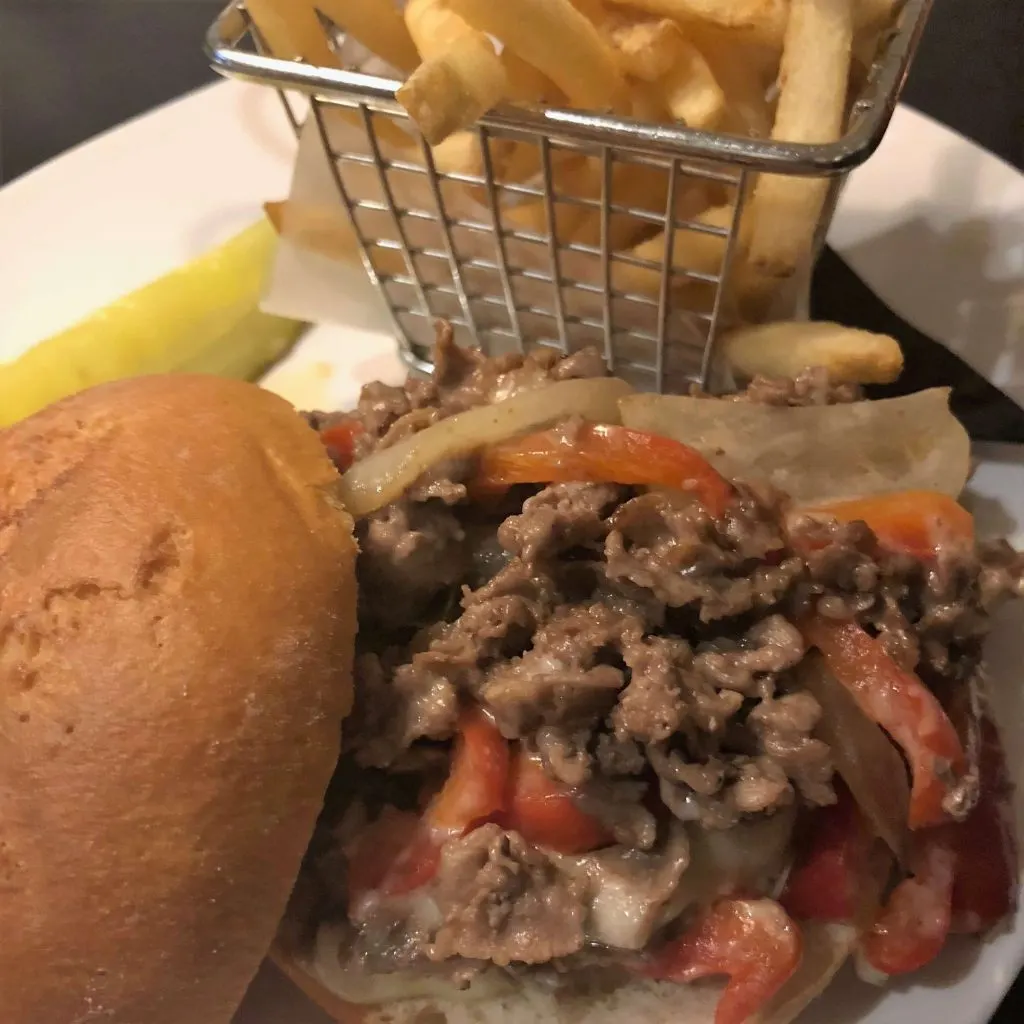 Each of these sandwiches were great—but I don't know if I can accurately explain just how delicious this combo of cheeses was on the grilled cheese. It makes me want to keep goat cheese in the fridge JUST for grilled cheese.
The 110 Grill Kids Menu
I'm pulling out the children's menu into it's own section because I was honestly floored when I saw all the choices on the kids menu—which just like the adult menu—can be 100% modified to be gluten-free!
There are so many options when building the kids meal. The price is also amazing for what you get. Maybe next time I should order a children's meal?
Children's meals come with a choice of 6 different main meal options, 3 sides (regular & sweet potato fries and rice), 3 different veggie options, and 3 dessert options—plus a drink!
Here's pictures of my daughter's children's meal. She ordered the gluten-free pasta with red sauce, regular French fries, carrots & celery with ranch dip, and a bowl of berries for dessert.
She is a good eater but could not finish it because it was so much food! But she sure loved every bite!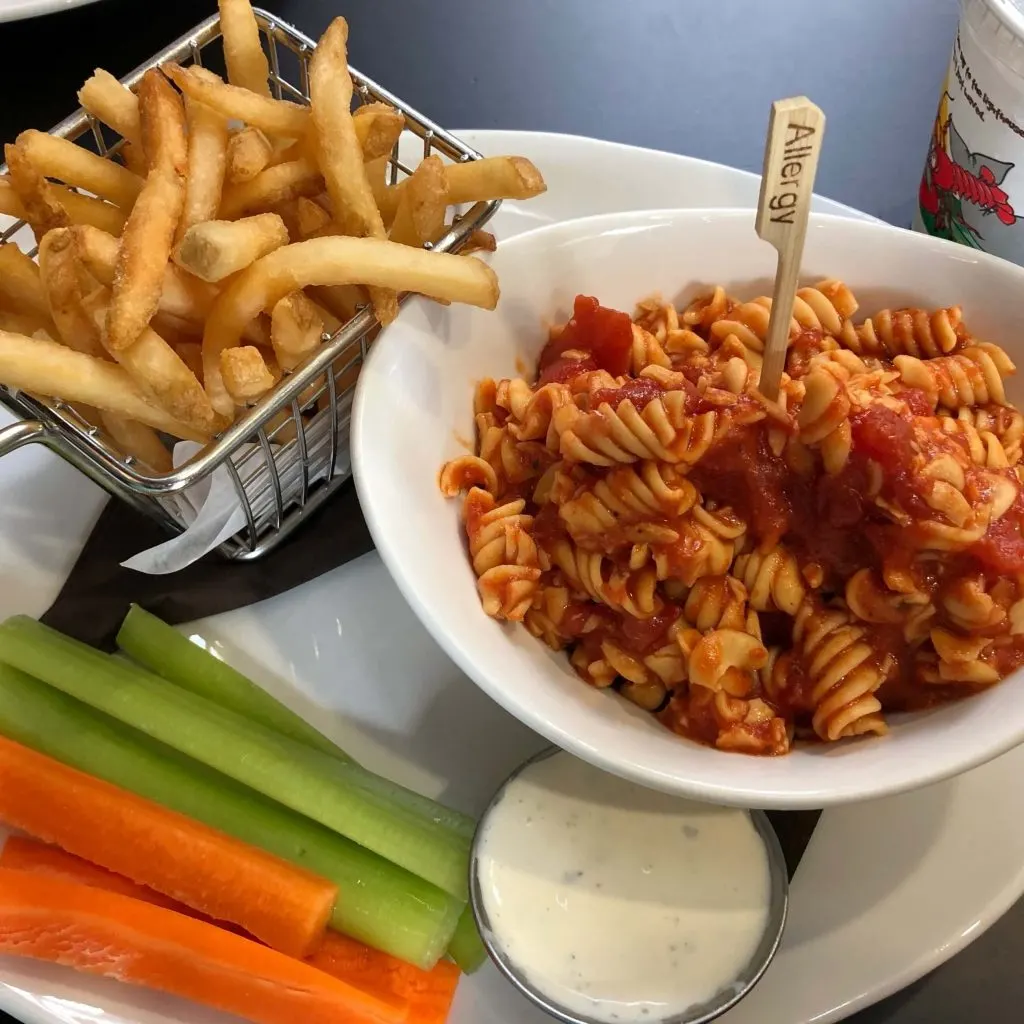 110 Grill Drink Menu
The drink menus at 110 Grill vary by location, but the locations I've visited have various offerings and these menus also have allergens noted.
Final Thoughts on the 110 Grill Gluten Free Menu
The gluten-free offerings on the 110 Grill menu definitely set the standard for gluten-free dining. Not only is there a wide variety, but the food itself is really delicious! Next time you're in New York, Massachusetts, or New Hampshire, be sure to see if there is a 110 Grill nearby and check out the 110 Grill gf menu!
Visiting Massachusetts? Be sure to read my reviews of Zaftigs Delicatessen and Wahlburgers!
If you enjoyed this 110 Grill Review, share it on social media and pin it to Pinterest using the share buttons below!
What's they key to loving your gluten free life? Take this quick quiz to get a personalized plan with the guide you need to thrive!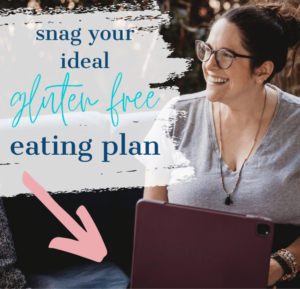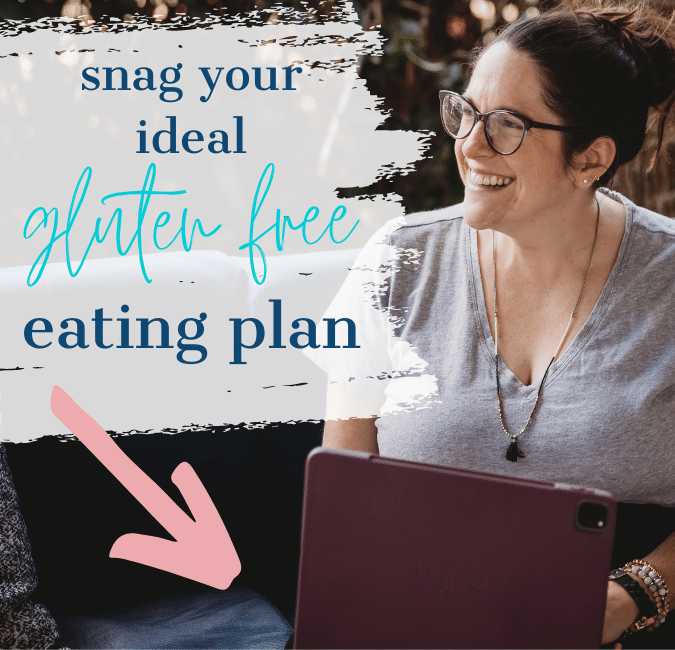 Other posts on eating out gluten-free you may find interesting: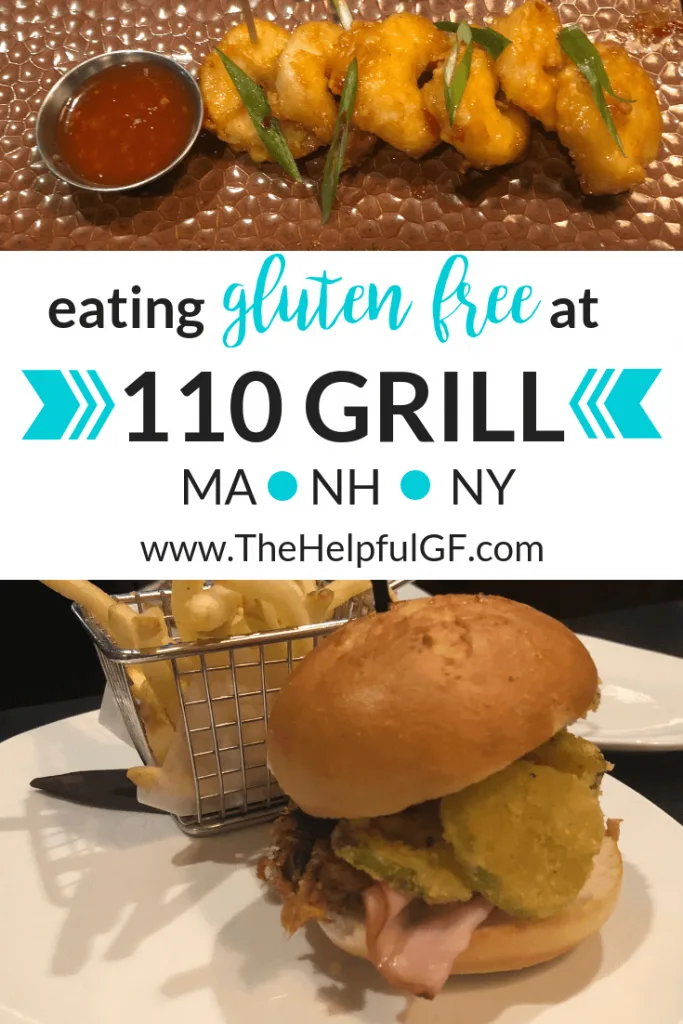 Thanks for Reading about the 110 Grill Menu Gluten Free Offerings