Are you looking to shake up your dinner routine? Or maybe you've got company coming over and a variety of dietary restrictions to accommodate?
Don't worry! You've come to the right place, we've come up with some of the absolute best vegetarian gluten free dinner recipes for you to choose from. The hardest part is going to be deciding which recipe you're going to try out first.
Keep reading for more information or use the Table of Contents below to jump to the section of your choice.
---
Are you new here? I also have the following posts to help you live gluten-free without the stress!
…get valuable support from me, and gluten-free peers, in my EXCLUSIVE Facebook community "Stress-Free Gluten-Free" by clicking here!
---
The gluten-free guide below is based on personal experience and research. Always be sure to discuss any medical changes with your doctor for your personal medical needs. Additionally, this post contains affiliate links. As an Amazon Associate I earn from qualifying purchases. My full disclosure isn't that interesting, but you can find it here.
Ready to take back control of your meals and love your gluten free life? Take the 45 second quiz to get a personalized plan with the guide you need to thrive!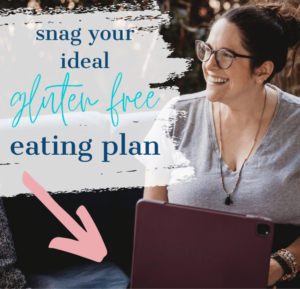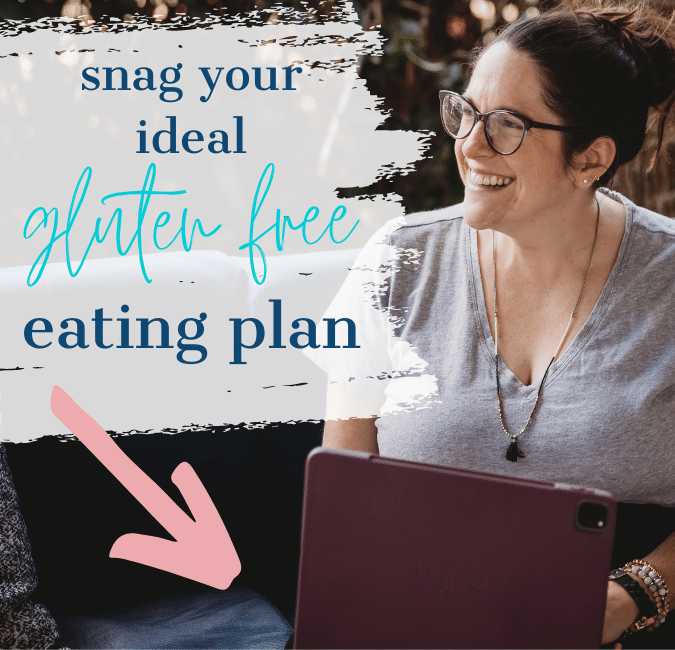 On top of being delicious, these vegetarian gluten free dinner recipes also have a lot of health benefits! Vegetarian recipes are often lower in sodium and fat. They also often include more vegetables, which are full of fiber and so many essential vitamins.
Vegetable Stew
Hearty, healthy, and packed full of flavor. This vegetable stew recipe will show you the best tips and tricks for emphasizing and bringing out the natural flavors of each vegetable.
The mushrooms, garlic and onions will leave your family asking for seconds! It's an easy vegan gluten free main course that uses simple ingredients to provide a rich taste.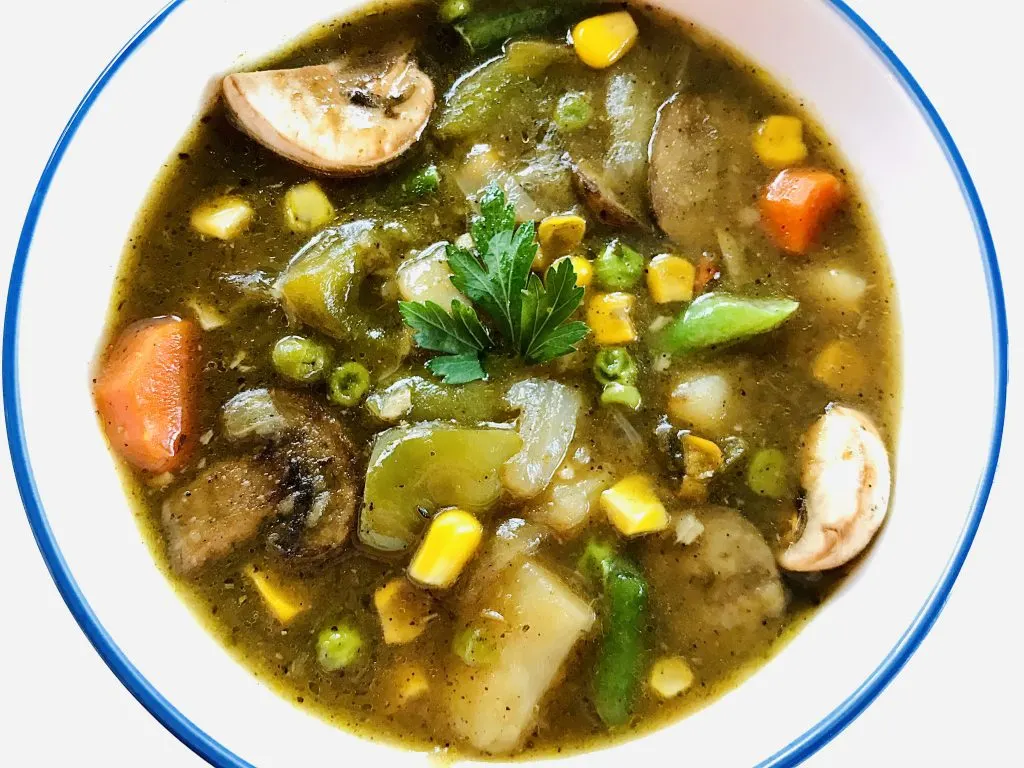 Get the recipe for vegetable stew here.
Gluten Free Moussaka
Moussaka is an eggplant based casserole-style recipe from Greece and the Balkans or Mediterranean area. This great recipe can be made with no meat, or meat substitutions.
Moussaka is a warm, hearty dish full of tomato, onions, garlic, eggplant, and cheesy, satisfying bechamel sauce. Fresh vegetables make for a delicious gluten-free main nutritious meal, the perfect way to wrap up your day!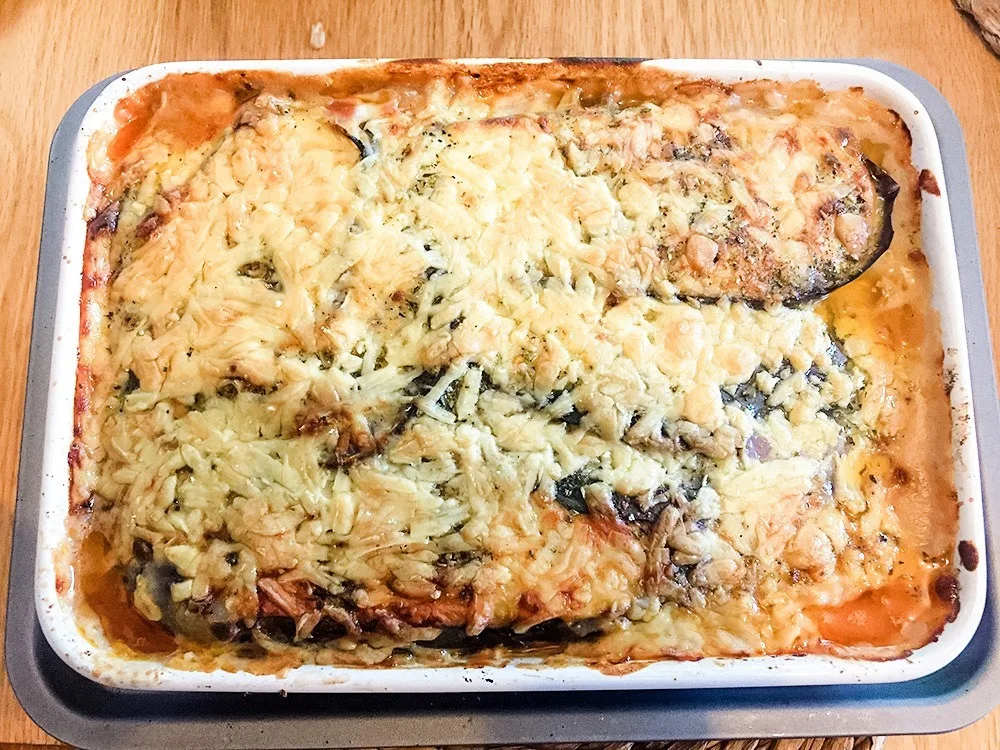 Get the recipe for gluten free moussaka here and follow the directions for the vegetarian version.
Gluten Free Slow Cooker Cabbage Soup
You're going to love how easy it is to make this cabbage soup. If your family is rushing to get dinner on the table, prep it ahead of time in a slow cooker!
You'll be relieved when you open the door to your home at the end of a long day and are welcomed in with the scent of this warm, healthy meal.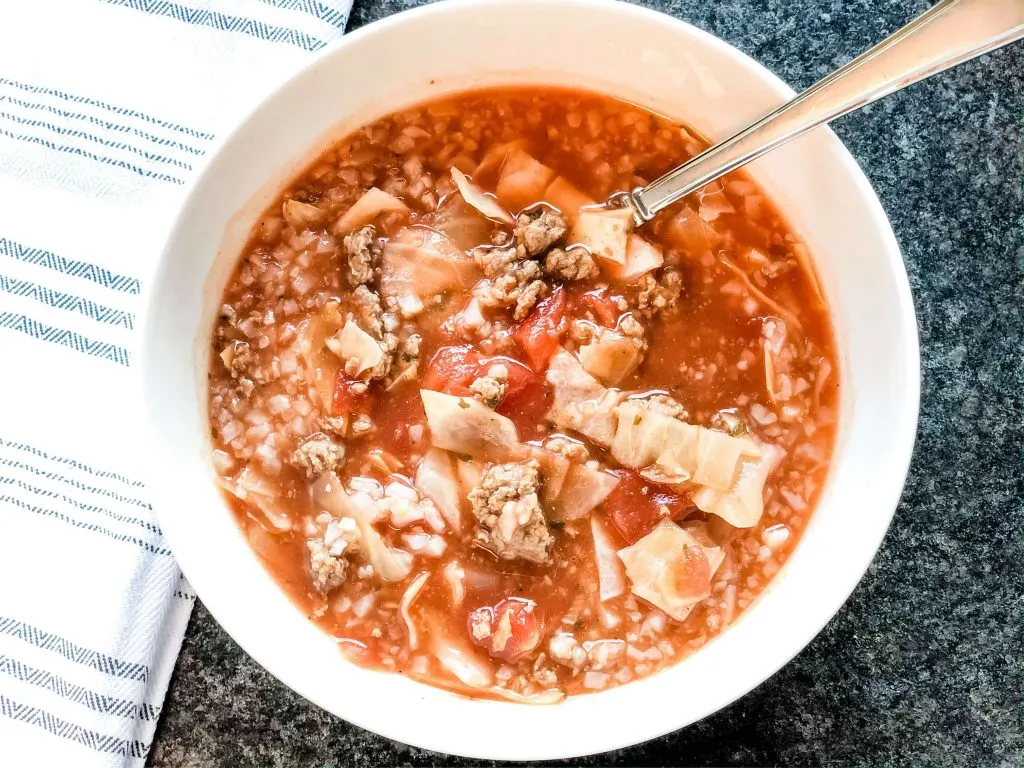 Get the recipe for gluten free slow cooker cabbage soup here and simply omit the hamburger or sub in some Gardein ground be'f.
Gluten Free Pizza Quesadilla
Looking for a fun vegetarian gluten free recipe that's a real crowd pleaser? Gluten free pizza quesadillas will make the whole family happy.
You can fill these quesadillas with your favorite pizza toppings like cheese, veggies, and vegan pepperoni. Then dip them in your favorite tomato sauce for an easy, fast, delicious dinner.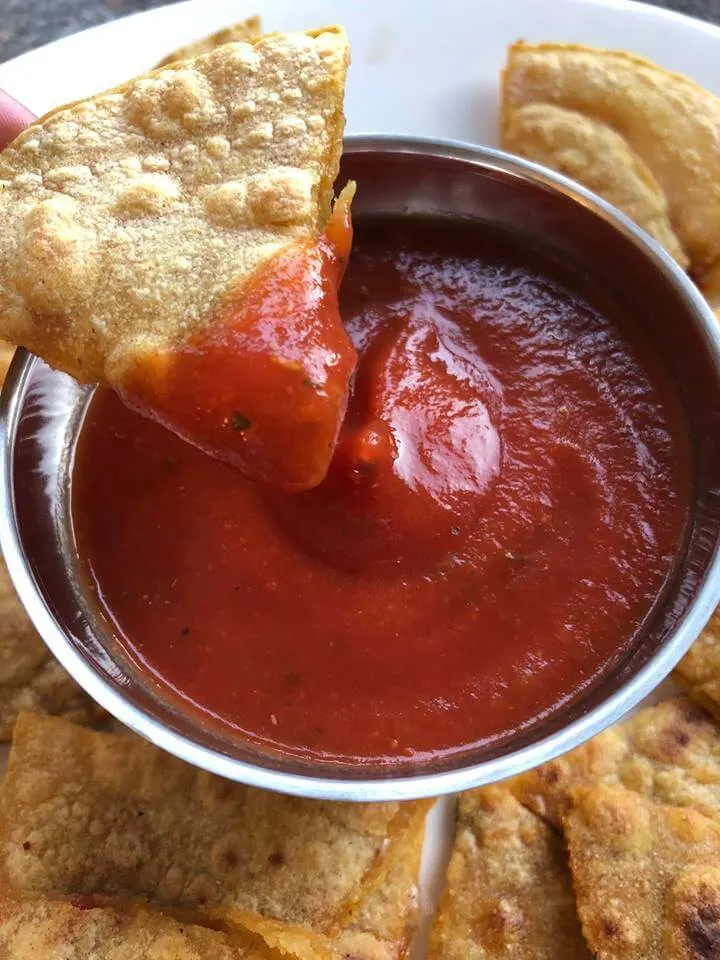 Get the recipe for gluten free pizza quesadillas here.
Gluten Free, Dairy Free Tomato Soup in the Blender
Are you looking for a quick, easy meal that's ready to eat in just 15 minutes? This tomato soup is the perfect weeknight dinner, it's done in a snap with the help of your pitcher blender or immersion blender. It's a light vegetarian gluten free dinner that is sure to impress with its rich flavor profile.
Keep this dinner light and summery by pairing it with your favorite salad. Or make this soup feel like a more hearty dinner with a delicious gluten free bun or bread slice. You can even check out this article on the best gluten free bagel brands that would perfectly complement this soup!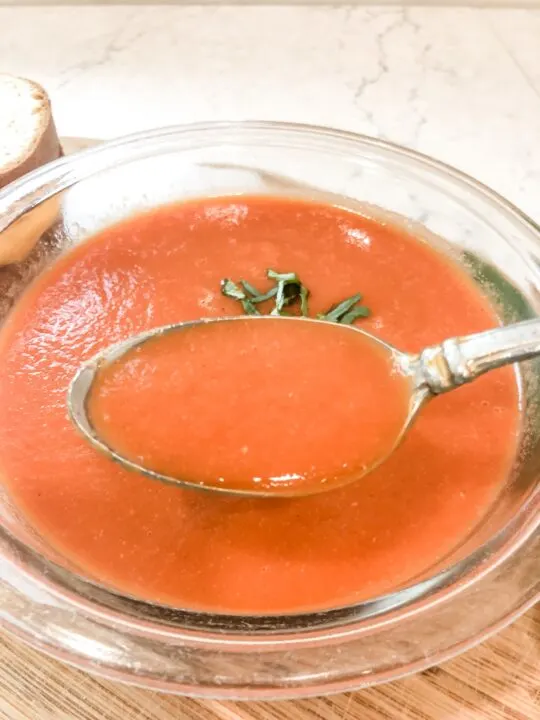 Get the full recipe for gluten free tomato soup in the blender here.
Green Goddess Hummus
Once you've tried this homemade green goddess hummus, you won't be going back to store bought! Maybe you've tried chickpea-based hummus before but this recipe is made from white beans. White beans are powerful little superfoods that are packed with protein to leave you feeling full for longer.
Make your dinner even more fun by using a variety of dippers with your hummus like: gluten free pita chips, gluten free pita, and fresh veggies such as carrot sticks, gluten free potato chips, or tortilla chips. It's simply one of the best vegan dishes there is!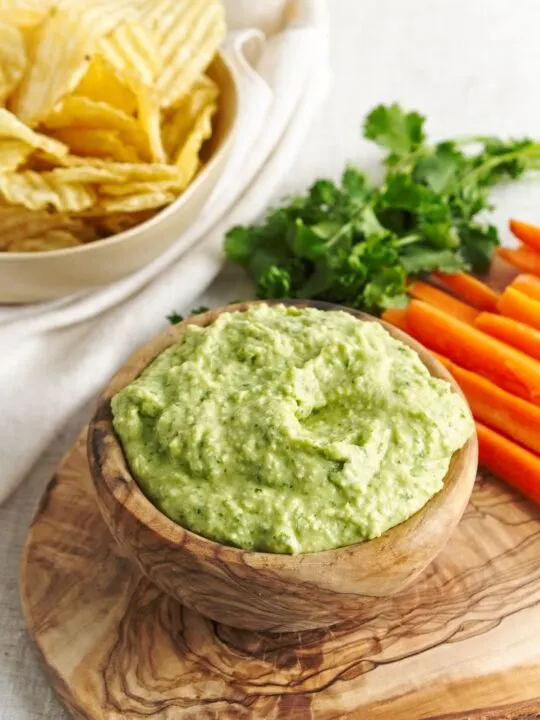 Get the full recipe for green goddess hummus here.
Lemon Chickpea Orzo Soup
While traditional orzo is made from wheat, this delicious vegan soup uses cassava orzo to make a delicious, creamy, and tangy soup that everyone will love! This stovetop soup recipe is simple and a complete meal with plant based protein, complex carbohydrates, and vegetables.
If desired, pair this soup with some gluten free pita like this one from BFree or make a side salad.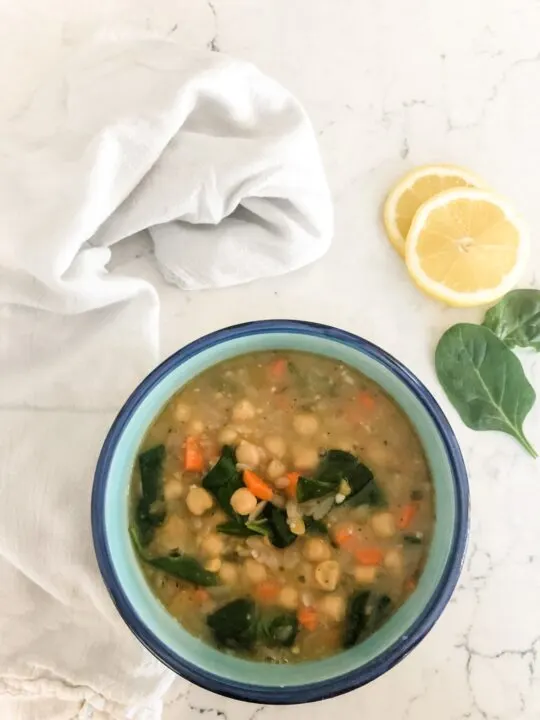 Get the full recipe for Gluten Free Lemon Orzo Soup here.
Creamy Vegetable Risotto
Creamy vegetable risotto is an Italian specialty that you can't go wrong with. Packed full of vegetables and savory seasonings, this simple recipe is bursting with flavor.
Dry white wine and vegetable stock are the perfect combination to give your rice an extra punch while it cooks. This recipe features fresh ingredients like garlic, onions, zucchini, tomatoes and fresh basil for a light and summery flavor.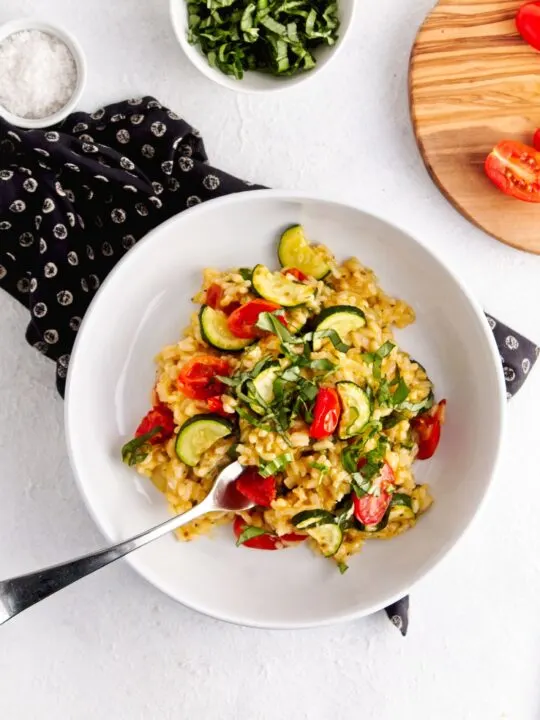 Get the full recipe for creamy vegetable risotto here.
Gluten Free Vegetarian Nacho Bar
You can pair together these two delicious recipes for a fun Mexican inspired dinner! Fire roasted corn salsa and easy homemade dairy free cheese sauce are the perfect combination.
This easy homemade dairy free, gluten free cheese sauce is full of carrots, potatoes, cashews and nutritional yeast that creates a wonderful, cheesy flavor without all the oil and dairy. It's perfect for fondue, pasta and of course nachos!
Fire roasted corn salsa will leave you saying wow! With only 5 ingredients, this salsa is quick to whip up with no time on the stove needed! You can even use frozen fire roasted corn kernels.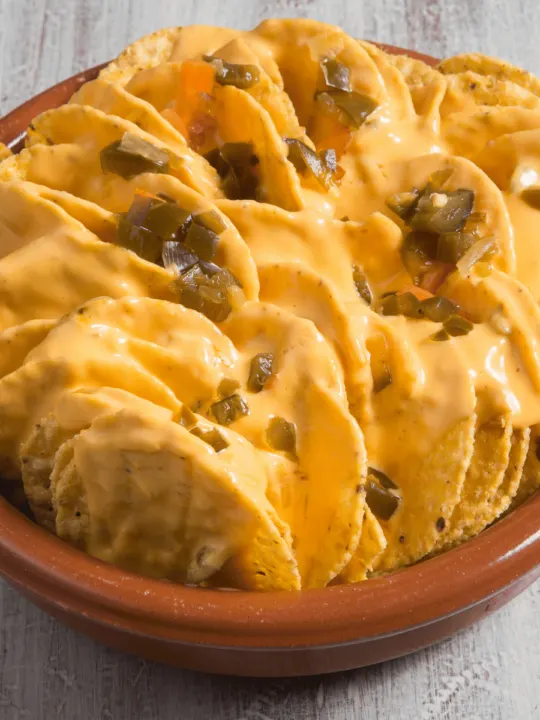 Get the recipe for easy homemade diary free gluten free cheese sauce here.
Pair it together with the recipe for fire roasted corn salsa here.
Gluten Free Vegetarian Tostadas with Honey Lime Sauce
This plant-based spin on traditional Mexican tostadas is absolutely mouth watering. A crunchy corn shell is packed with black beans, crispy potatoes and swiss chard then topped with creamy honey-lime sauce.
It's a delicious meal and an easy recipe that might just become one of your new favorite vegetarian meals. You can add fresh cilantro or sour cream to your tostadas to make them your own!
Tostadas are the perfect recipe to serve to friends or family. They look a bit more impressive than your standard taco yet are still a cost-effective option for serving a crowd.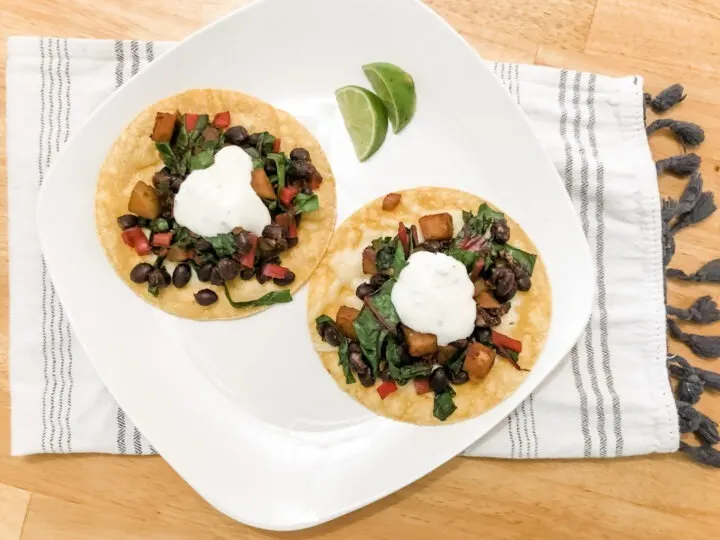 Get the recipe for gluten free vegetarian tostadas with honey lime sauce here.
Southwestern Quinoa Salad
Southwestern quinoa salad is a delicious healthy dinner idea that is naturally vegetarian and gluten free. Full of healthy ingredients like protein-packed quinoa and black beans, this salad is full of fuel to keep you satisfied but not weighed down.
It's an easy salad to make in a nice large portion to serve as your main meal as the star of the show. Or offer it alongside other Mexican inspired dishes on this list like the tostadas or nachos.
Southwestern flavors like lime, cilantro and tomato are a wonderful flavorful combination that will have your taste buds doing a happy-dance at dinner time.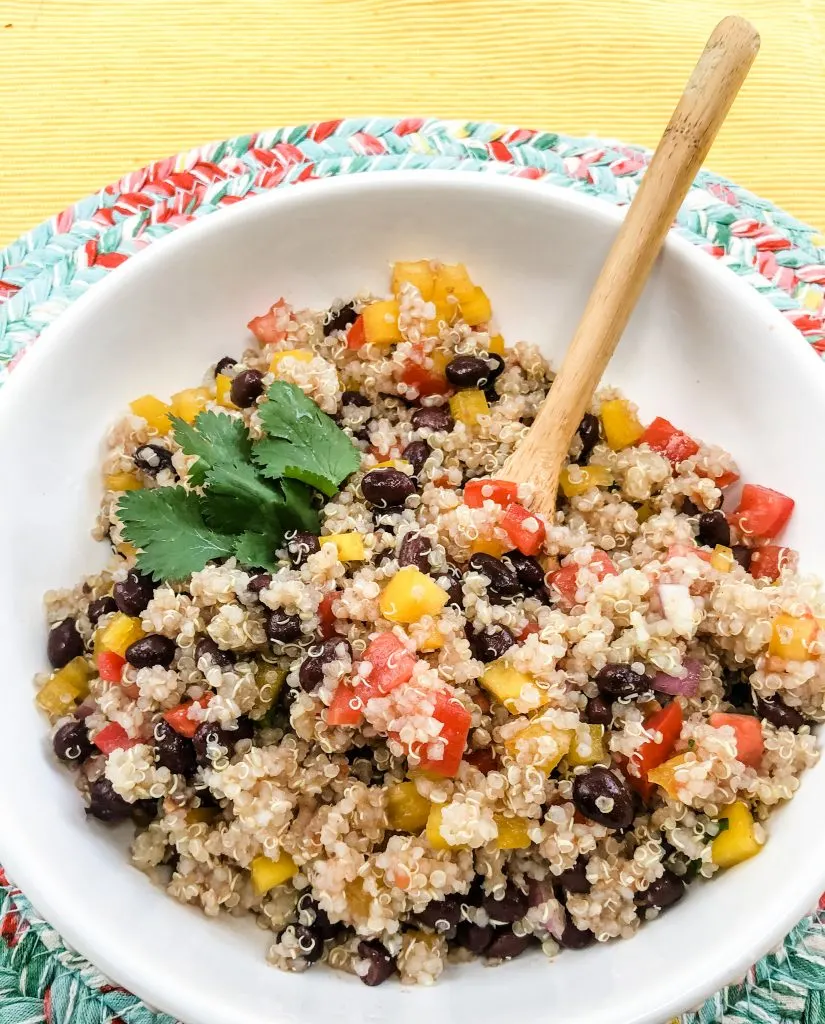 Get the recipe for southwestern quinoa salad here.
You need to try these vegetarian gluten free dinner recipes!
Having a dietary restriction or preference doesn't mean you have to settle for boring food or eat the same thing over and over again.
This list has so many perfect ideas to leave gluten-free vegetarians feeling satisfied and happy at the dinner table. So many of the recipes on this list can be adapted to be vegan recipes that also fit a gluten-free diet.
Did you love these vegetarian gluten free dinner ideas?
If so, be sure to share it on social media or pin it to Pinterest using the social sharing buttons below!
You'll Love These Gluten Free Vegetarian Dessert Ideas:
Ready to take back control of your meals and love your gluten free life? Take the 45 second quiz to get a personalized plan with the guide you need to thrive!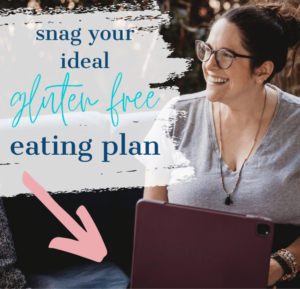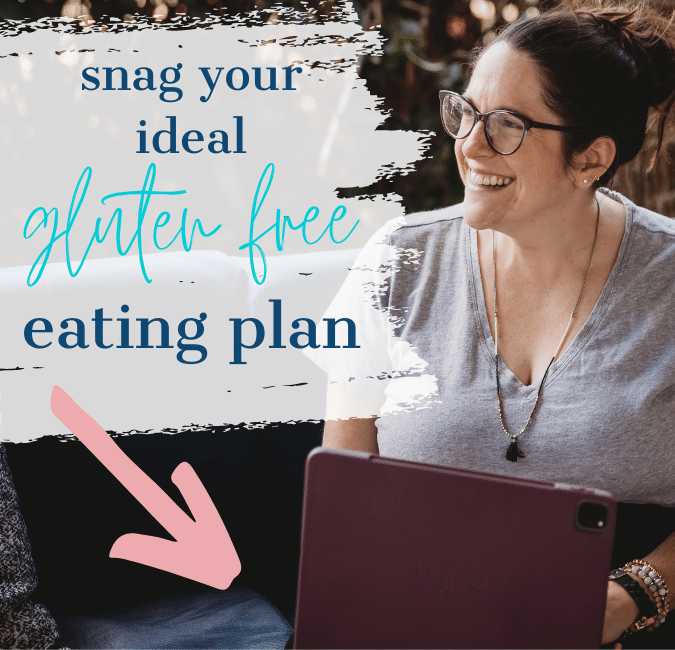 You Just Finished Reading: 11 Vegetarian Gluten Free Dinner Recipes You Need